Case Study | Hosting & Support | Website Design & Development
Rebuilding a Lead-Gen Engine for a Global B2B SaaS Company.
Lead Forensics, a global B2B SaaS company, collaborated with Hewitt Matthews to overhaul their website and fully integrate it with their new CRM system, for enhanced lead management. The project resulted in a 4x faster website, with a user-friendly design that aligned with their new branding, seamless CRM integration for effective lead management, and an intuitive backend admin interface, all contributing to improved user experience, higher visitor retention, and increased lead conversion rate.
Lead Forensics | Hosting & Support | Website Design & Development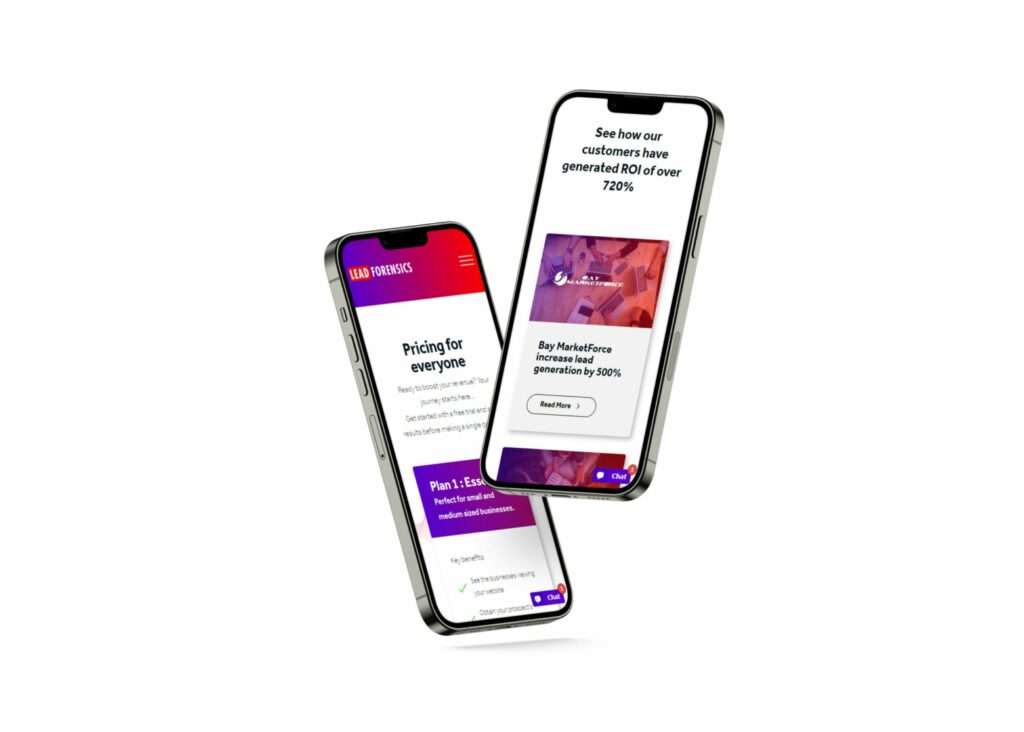 BACKGROUND
Lead Forensics is a market leader in B2B website visitor identification software, providing solutions to both small and medium enterprises, as well as large multinational corporations. The technology allows companies to reveal the corporate identity of anonymous website visitors, enabling more targeted lead generation and sales efforts.
THE CHALLENGE
As the result of a brand refresh, Lead Forensics required a comprehensive overhaul of their website to align with their refreshed branding.
However, it was also crucial to take this opportunity to enhance their lead generation and support their ongoing marketing activities across both paid and organic.
With this in mind, Lead Forensics also needed the website to fully integrate with their new CRM system to assist with lead management, which their previous site didn't do correctly.
SOLUTION
We first got to grips with Lead Forensics' refreshed branding and familiarised ourselves with the new branding guidelines, tone of voice and other key visual elements, to make sure we were ready to build exactly what was required.
As a B2B SaaS business focused on lead generation and actively running marketing campaigns across Google Ads, SEO, and Social (Organic & Paid), Lead Forensics required full integration with their CRM's Sales and Marketing suite for maximum efficiency.
We first ensured that all forms on the website were connected directly into the CRM and tested thoroughly to allow us to monitor visitor interactions against when/how users converted to support better Lead Scoring.
Marketing Automation and Reporting was then far easier to setup and manage internally at Lead Forensics.
As Lead Forensics are a varied and global business with users reaching the website from a variety of means, we also catered for a wide range of screen resolutions and browsers, guaranteeing a seamless browsing experience, irrespective of location.
Additionally, to help support the needs of Lead Forensics' internal marketing team, Hewitt Matthews built an easy-to-use, backend admin interface that provided full autonomy to the client.
RESULTS
The completion of the project had significant improvements across various areas:
Speed: The newly revamped website loads 4x faster than before, dramatically enhancing user experience and reducing bounce rates.
User-Friendly Design: The redesign provided a fresh, intuitive layout that aligned with Lead Forensics' new brand guidelines. This improved user navigation and engagement, leading to an increase in the average session duration and higher visitor retention rates.
Seamless CRM Integration: The integration of the new CRM was smooth and efficient, enabling Lead Forensics to manage their leads more effectively and accurately. This integration improved their lead management processes, contributing to a higher lead conversion rate.
Empowered Marketing Team: The creation of a user-friendly admin interface facilitated the marketing team's operations, allowing them to swiftly make necessary changes to the website. This streamlined workflow led to a faster response to market trends, enhancing Lead Forensics' competitive edge.
We worked with Hewitt Matthews on a super-fast turnaround website project and they continually exceeded expectations. Great end product, great to work with. I would definitely use their services again.
Explore a selection of website projects we've had the pleasure of working on.
Full Portfolio